ServersMan Cooperative apps Scooop
What's "Scooop"?
"Scooop" is a software which directly sends photos from your mobile phone to other devices which equips ServersMan. Traditionally, sending data from mobile phone to other devices used to be quite troublesome because of data compatibility, transfer method, and so on.
"Scooop" let you send file from your mobile phone as soon as you shoot photo. Destination can be any device which has ServersMan installed, such as….
– CAS in your home or office
– Your friend's iPhone, Windows Mobile, or Android devices
Storage size of smart phone is merely low size, which soon becomes full with photos, movies, musics, and apps. However, using "Scooop" app lets you extend the storage size up to 2TB, using external HDD. Moreover, saved photos are accessible and visible from the whole Internet.
(Of course, you can control access and keep security.)
Unlike ordinary online storage services, your data remains not in the server somewhere unknown in the Internet but just in the device you control in your hand.
Now the "True" Cloud Storage is in your hand.
Just take 5 minutes to join ServersMan world, which brings you stress free storage service that enables you to put in and take out any kind of files into/from various devices running ServersMan.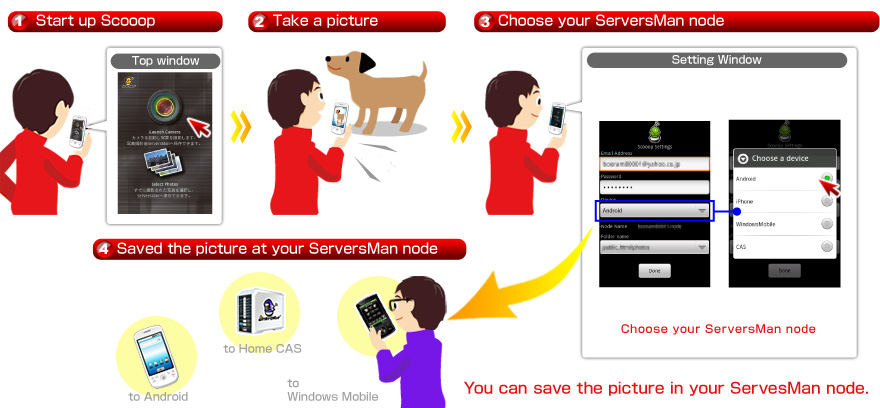 Detail pages