ServersMan HD (for iPad)
Feature / Function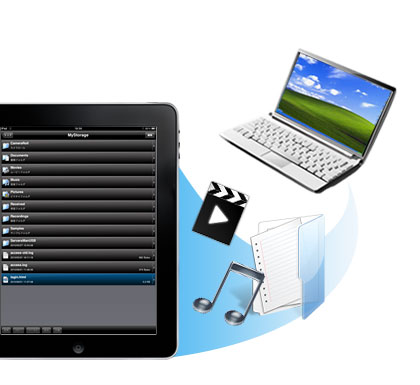 ServersMan works without iTunes or USB cables. It's easy to upload/download files to/from your iPad.You can access to iPad either via a web browser or via a WebDAV protocol.
ServersMan enables file uploads to the ServersMan Storage area in iPad directly from a web browser on a Mac or PC. Users do not need any cables or iTunes synchronization when transferring data. Since ServersMan also supports WebDAV, users can transfer data directly to and from iPad without going through the browser.
FreeBit's Cloud Switch technology automatically switches between 3G and Wi-Fi, so that the user can obtain the best connection without even thinking about it.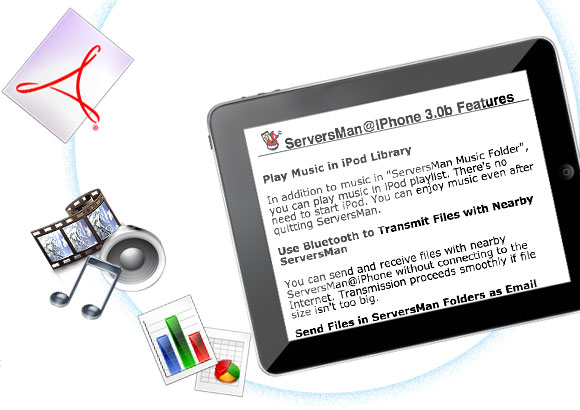 iPad as a Multi Document Reader
ServersMan HD supports many files such as Excel, Word, Keynotes, PDF, mp3, jpg, etc. It is very smooth and stress-free to change screens between viewer mode and editor mode when user is working on text files, HTML files, and so on.
Superior PDF Viewer
With ServersMan's original PDF function, you can read PDF files including many pages. User gets quick responses when they move pages. ServersMan works as a e-book reader after a user scan all your own paper books.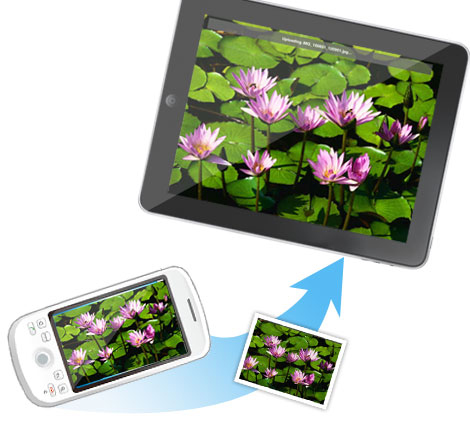 New slideshow function just like a photo frame
Taking advantage of the iPad's huge screen, ServersMan HD also works as a photo frame including slideshow function. Working with Scooop, an app transferring data autumnally to your ServersMan, your iPad at home can show photos that were just taken in a slideshow mode.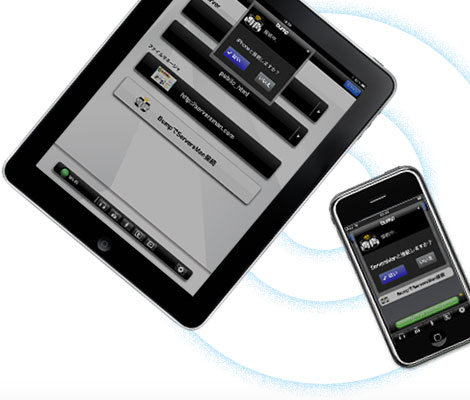 Bump app supported
ServersMan HD supports Bump App, which transfers data from one iPad/iPhone/iPod touch to another simply by bumping each other. For example, you can receive a photo that was just taken by bumping the two devices.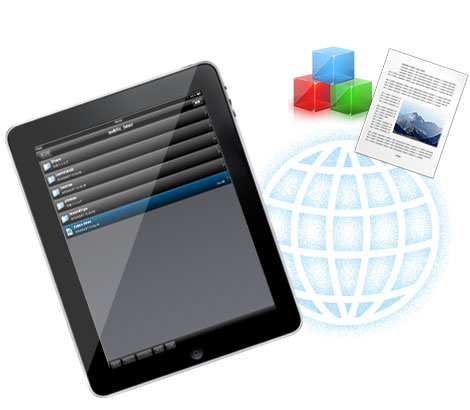 iPad as a web server
With an iPad you can manage your personal website. ServersMan contains a web server engine to allow users to publish data on the Internet by simply selecting the data on iPad and performing a few touch operations.
Requirements
You can download this application from AppStore.Registration including your email address is required. Download, installation, and registration is free of charge.
Release note
7 17 2010

ServersMan@HD (for iPad) release
See also