Scooop@Android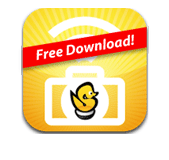 ServersMan, the Hall of Fame enshrined app in the famous iPhone app's review site "AppBank", now releases its coalition software "Scooop" It is available for all ServersMan devices.

Download from Android Market > Productivity>>

Requirement
System requirement:
・Android OS 1.5 or later
Release note
Var.1.2

•Upload to ServersMan HD(for iPad),ServersMan@Desktop
•Save folder Manual setting
Var.1.1

・V1.1 accept Xperia and Nexus One.
FAQ
Q. Does pictures remain in my local data storage?

A.Yes. Your picutres remain in your local data storage. If you don't want to save a picture in storage, you can change a setting.
Q. Can I use Scooop without the use of other device?

A. No, you can't. You have to prepare other ServersMan node.
See also