FAQ WindowsMobile
<< Back to FAQ ServersMan@Windows Mobile
Answer
ServersMan@WindowsMobile Top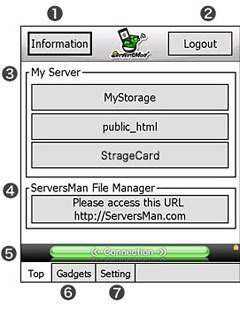 Info button

It shows the information such as ServersMan version, local IP, emotion link IP, license.

Logout button

Log out from ServersMan network. (under logout status, it turns to "Login" button).

My Server

It enters storage folder by clicking MyStorage.
It enters public folder by clicking public_html.

ServersMan file manager button

By clicking the URL, access method from PC and Mac to the file manager of iPhone is displayed.

Status

The present connection status is displayed.


WebGadget button

It switches to the page such as publishing GPS information, selecting pictures, live feature (voice recording, taking pictures).

Initialization button

It switches to the page of accout display and settings.
<< Back to FAQ ServersMan@Windows Mobile