FAQ Android
<< Back to FAQ of ServersMan@Android
Answer
ServersMan Top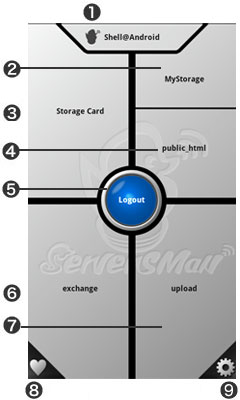 ServersMansShell@Android button

ServersMan other files or browse and download / upload ServersManShell Button could work.

MyStorage button

It enters storage folder by clicking MyStorage.

Storage card button

It enters storage folder by storage cared.

public_html button

It enters public folder by clicking public_html.

Logout button

Log out from ServersMan network.(under logout status, it turns to "Login" button).

exchange button

Move the function to check the status screen viewing capabilities and share lists of files that you access by tapping the ticket.

upload button

Move the upload function to check the status of the account and inform you tap the account for upload.

Tool button

When you tap the camera and recorder, bump can start by choosing file publishing capabilities./dd>

Setting button

It switches to the page of accout display and settings.
<< Back to FAQ of ServersMan@Android